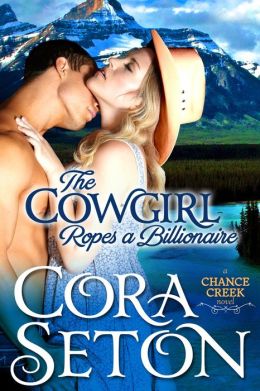 The Cowgirl Ropes a Billionaire
By Cora Seton
Genre: Contemporary Romance | Cowboy/Cowgirl
FREE
(until August 31, 2014)
Bella Chatham will lose everything - her veterinary practice, her animal shelter, and even her home - if she can't find another source of income, fast. So when her best friend signs her up for the hot new reality television show, Can You Beat a Billionaire, Bella accepts the challenge and hopes against hope she can win the ten million dollar prize. If she doesn't, it's bye-bye pet clinic and shelter, bye-bye Chance Creek, Montana, and hello to marriage to the billionaire for a year!
Evan Mortimer, billionaire, can't believe he's reduced to competing in a television contest to win a wife. Unfortunately, it's the only foolproof way to secure his position as head of Mortimer Innovations. At least he'll be able to dump his "spouse" at the end of the year; he's much too busy to be tied down to a country bumpkin cowgirl.
Bella doesn't expect her adversary to be handsome - or funny, or compassionate - but Evan's all three, and he's proving a tough competitor, too. When they end up sharing a tent - and a sleeping-bag - her body betrays her with a longing so deep it cuts her to the core. Still, this cowgirl must stay strong. If Evan uncovers her secret fears, he'll use them to win the contest - and then he'll own her for a year. She'll be out of luck, out of cash, and stuck being Mrs. Mortimer until he kicks her to the curb. Too bad she can't decide which is worse - winning the show and losing Evan forever, or losing the show and only being his temporary wife.
Evan can't believe he's falling for the one woman who doesn't want him. This cowgirl's not impressed by his money, his name, or his inability to sleep in a tent with her for an entire night, but every look and touch she gives him sends his desire through the roof. With a director determined to use his claustrophobia to make him look like a fool, and an adversary so sexy he can hardly see straight, he'll need all his savvy to come out on top. Too bad he's going to lose no matter how this show turns out. If he beats Bella, he'll destroy the first woman he's ever loved. If he doesn't beat her, it's bye-bye Mortimer Innovations.
Will either of them remember in time that it's not who wins or who loses - it's how they play the game that really counts?
Amazon:
http://www.amazon.com/Cowgirl-Ropes-Billionaire-Cowboys-Chance-ebook/dp/B00GFZRFKM/
B&N:
http://www.barnesandnoble.com/w/the-cowgirl-ropes-a-billionaire-cora-seton/1117191690
Smashwords:
https://www.smashwords.com/books/view/368173
Killing Honor
(Book 1 in the Lucky Thirteen series)
by S.M. Butler
Genre: New Adult | Military Romance
Only .99¢

(For a limited time)
Navy SEAL Brody Battles' last mission ended with him shot twice. He's made enemies he'd like to forget ever existed all over the world. He's more than ready to go home to the family he left behind, but when he returns, he faces sleepless nights, a possible security breach and the fear that his family has moved on without him.
Marrying her childhood sweetheart sounds like a fairy tale dream come true, but not for Devyn. Thanks to his job, her husband has been off on a secret mission for so long, he's never even seen his daughters in person. But now he's back, and the fairy tale life is in sight, but Devyn's not sure the man that returned is the same man who left.
Stitching their broken family back together proves difficult when nightmares and secrets build a wall between them. And while they're adjusting to being a family again, an enemy waits in the shadows, salivating for the sweet taste of revenge.
This New Adult title includes adult situations and may not be suitable for readers under 18 years.
Reading order of this series:
• Killing Honor, #1
• Wounded Courage, #2
• Dying Commitment, #3
Buy Links:
Amazon:
http://amzn.to/1nXr2Rb
iBooks:
http://sbutler.us/kh-ibooks
Nook:
http://sbutler.us/kh-nook
Kobo:
http://sbutler.us/kh-kobo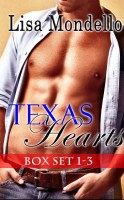 Texas Hearts (Box Set 1–3)
By Lisa Mondello
Genre: Contemporary Romance | Western Romance | Cowboys
Only .99¢ (For a limited time)
NYTimes Bestselling Author Lisa Mondello brings you 3 thrilling western romances with 3 sexy cowboy heroes in 1 Box Set!
TEXAS HEARTS Box Set includes the stories:
HER HEART FOR THE ASKING
Mandy Morgan swore she'd never step foot in Texas again after Beau Gentry left her for life on the rodeo circuit eight years before. But now her uncle's heart is failing and she has to convince him that surgery will save his life. She never dreamed the first thing she'd see when she stepped off the plane would be her biggest nightmare...the one man she'd never stopped loving.
Beau Gentry had the fever for two things: the rodeo and Mandy Morgan. But for Beau, loving Mandy was complicated by his father's vendetta against her uncle. This led him to make the hardest decision of his life and he can still see the bitterness and hurt on Mandy's face. All these years it has killed him to think Mandy had forgotten him and moved as far away as possible from him. But now they're back in Texas, and he's going to do all he can to win back her love.
HIS HEART FOR THE TRUSTING
Ever since Mitch Broader set foot in Texas, he dreamed of owning his own ranch. Now that he's bought a share in the Double T Ranch, he's one step closer to the dream. Then his past greets him in the form of a baby basket, complete with infant and birth certificate naming him as the father. He can't change diapers and work toward his dream at the same time.
When Sara Lightfoot, "Miss Hollywood" in Mitch's eyes, rescues him with her particular knack for handling his precocious son, he hires her on the spot as a temporary nanny. No matter how much Sara's dark eyes and warm heart make this bachelor think of making their arrangement permanent, she's made it perfectly clear she has other plans that don't include him or his dreams.
Sara Lightfoot never thought she'd return to her home on the reservation. Now she plans to reclaim the life she left by going back to the reservation as a Native American storyteller, teaching the Apache children stories of their culture. She didn't expect Mitch Broader's sexy smile or job offer as a live-in nanny to derail those plans. After all she's been through to come home, can she open up her heart once again to love?
THE MORE I SEE
As a top-notch cutting horse trainer, Cody Gentry was riding high until he lost his eyesight after a freak chemical accident. Unable to see the hand in front of his face, never mind the horse or cattle he trained, he knows his life is over and slips deep into depression. His whole future hinges on the success of an eye surgery that could give him his old life back.
When guide dog trainer, Lyssa McElhannon, arrives on his ranch like Florence Nightingale coming to save him, he wants no part of her or her guide dog. But something about Lyssa's musical laugh coupled with her tenacity digs under his skin and won't let go. Having been blind most of her life, Lyssa understands the paralyzing fear Cody feels after losing his vision. But she refuses to let the stubborn cowboy waste his life away sitting in a chair when she knows first-hand that a good guide dog can change his world. She just needs one month to prove it to him.
Falling in love with Cody was not part of Lyssa's plan, nor was having him open her eyes to see that there was a whole lot of living she'd been missing.
Amazon: http://amzn.to/1vSkLA9
B&N: http://www.barnesandnoble.com/w/texas-hearts-lisa-mondello/1113331636
Smashwords: https://www.smashwords.com/books/view/457913