On this week's Friday Finds, I'm thawing the snow and ice with some sizzling erotic romances for under a dollar. Check out these sexy reads....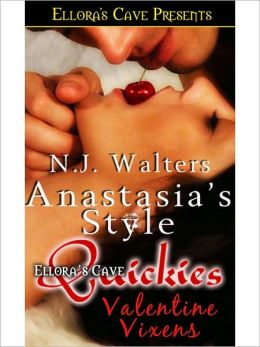 Anastasia's Style
by N.J. Walters
Genre: Erotic Romance | Valentines Day story
Only .99¢ for a limited time! Grab your copy today!
Anastasia Style, owner of Hassle-free Holidays, is having anything but a hassle-free Valentine's Day. Her normally reliable car has a flat and she has a delivery to make for a last minute, lucrative client. And if that wasn't enough to make a woman crazy, she still has to make it to her lawyer's office in time to sign her divorce papers.She just has to set the stage for her client's romantic evening and then she's off to her lawyer's office to officially end her marriage to Mason Style. Except her client has other ideas about how Anastasia will be spending her evening, and he has no intention of ever letting her go.
Only .99¢ for a limited time! Grab your copy today!
Amazon:
http://www.amazon.com/Anastasias-Style-N-J-Walters-ebook/dp/B00305CY5G
B&N:
http://www.barnesandnoble.com/w/anastasias-style-nj-walters/1019740428?ean=9781419909443
Danu, The Return
by Sally Painter
Genre: Erotic Romance | Paranormal
FREE!
Part of The Hussies series.Danu has one weakness—hot, sexy dragon-hunter Ragna. As leader of the Hussy Warrior Hunters, she reaped eternity with him in the Netherworld—until now.Destiny calls Danu back to Earth—alone. Torn between her sacred duty and her lover, Danu agonizes over losing Ragna forever. Strong, fearless Ragna makes her mindless with desire, and each time he touches her, Danu melts. Ragna is powerless to stop her from being ripped from his arms. His last words ring in her ears… He'll find a way to return to her.
Amazon:
http://www.amazon.com/Danu-The-Return-Sally-Painter-ebook/dp/B003SX0Y8E
Love Me Tonight - Four Erotic Romance Stories for Valentine's Day
by authors Cassia Leo, Catou Martine, Kandi Kayne, and Mimi Strong.
Genre: Erotic Romance | Boxed Set
Only .99¢ for a limited time! Grab your copy today!
Enjoy these four delicious, sensual Valentine's Day stories by Orly Press authors. These stories were written exclusively for this collection, and are being published for the first time.
In addition to Valentine's Day and romance, another common thread unites all four very diverse tales: sexy red shoes.
EROTIC ROMANCE WARNING - These erotic stories contain explicit sex scenes, and are intended for an adult audience.
Story #1 - Hunting Luke - Cassia Leo
Luke and Brina are looking forward to their first entire day alone together since becoming parents. For Valentine's Day, Luke sends his wife Brina on a sexy scavenger hunt. The surprises keep getting better, but Brina wonders if parental guilt will spoil her hunt for Luke. (This story takes place after the events of Cassia Leo's erotic romance series, LUKE.)
Story #2 - Green-Eyed Angel in Paris - Catou Martine
Laine, an art museum director, takes her broken heart to Paris. She's looking for Mona Lisa, but finds an angel. His name is Colin, and he's a green-eyed Englishman who seems to know exactly what Laine truly wants.
Story #3 - The Red Shoe Affair - Kandi Kayne
A girl can dream! She can save up all her money for a trip to Paris, and allow herself one night at the Georges Cinq, in a room fit for a princess. And when that girl locks herself out of her room by accident, she can meet the mysterious, handsome man across the hall.
Story #4 - Falling Away - Mimi Strong
Tessa, a widow, visits a new hair salon, where she meets a handsome man whose touch transforms her.
Amazon:
http://www.amazon.com/Love-Me-Tonight-Romance-Valentines-ebook/dp/B00BEJD0ZI