Are you having the winter blues? I am. Every time the weather gets over 40 degrees, I think ah ha! Spring is almost here...and then it snows. Grrr. Well, I have one way to beat the winter blues—escaping into an ebook. Whether you go for the sensuous sizzle of a contemporary romance, or would rather get swept away by a magical fantasy, I've got ya covered. Check out these great finds...
About Last Night
By Ruthie Knox
Genre: Contemporary Romance
Only .99¢ (Sale ends 3/9/14)
Sure, opposites attract, but in this sexy, smart, eBook original romance from RITA finalist and USA Today bestselling author Ruthie Knox, they positively combust!
When a buttoned-up banker falls for a bad girl, "about last night" is just the beginning.
 

Cath Talarico knows a mistake when she makes it, and God knows she's made her share. So many, in fact, that this Chicago girl knows London is her last, best shot at starting over. But bad habits are hard to break, and soon Cath finds herself back where she has vowed never to go . . . in the bed of a man who is all kinds of wrong: too rich, too classy, too uptight for a free-spirited troublemaker like her.
Nev Chamberlain feels trapped and miserable in his family's banking empire. But beneath his pinstripes is an artist and bohemian struggling to break free and lose control. Mary Catherine—even her name turns him on—with her tattoos, her secrets, and her gamine, sex-starved body, unleashes all kinds of fantasies.
When blue blood mixes with bad blood, can a couple that is definitely wrong for each other ever be perfectly right? And with a little luck and a lot of love, can they make last night last a lifetime?
Amazon:
http://www.amazon.com/About-Last-Night-Loveswept-Contemporary-ebook/dp/B006XWY424
B&N:
http://www.barnesandnoble.com/w/about-last-night-ruthie-knox/1108296251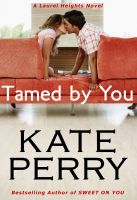 Tamed by You
By Kate Perry

Genre: Contemporary Romance
FREE (Sale ends 3/15/14)
First rule of matchmaking: Don't fall in love with your client.
Second rule of matchmaking: Don't fall in love with your client!
Valentine Jones has never been good at following rules, especially the one that matters most: following the family tradition of being a matchmaker. She's tried, but she happens to suck at it. So when her mother swoops in to help, Valentine is determined to prove she doesn't need a babysitter.
Enter Ethan "The Predator" Hunter, ex-fighter and all-around hunk. Career on hold because of injury, his sole focus is to get back in the ring. He has no interest in the people–until Valentine sets her matchmaking sights on him.
Suddenly Ethan's world is filled with nonstop commotion and lessons on attracting women. Only Ethan doesn't want a random woman. He wants his matchmaker–rules be damned…
Amazon:
http://www.amazon.com/Tamed-You-Laurel-Heights-Novel-ebook/dp/B00BE9K8US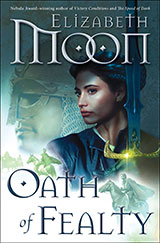 Oath of Fealty
By Elizabeth Moon
Genre: Fantasy
Only .99¢

(Sale ends 3/9/14)
Oath of Fealty
, book one of Paladin's Legacy, two neighboring realms each get a new king--and both kings face personal danger and social unrest. An estranged daughter must take over her family's realm and send her evil adult relatives to prison--or face a charge of treason. And a former mercenary captain inherits the entire company. Assassinations, conspiracies, brigands, wars and rumors of war...will it never end?
Thanks to Paks's courage, the long-vanished heir to the half-elven kingdom of Lyonya has been revealed as Kieri Phelan, a formidable mercenary who earned a title—and enemies—in the neighboring kingdom of Tsaia, where Prince Mikeli suddenly faces the threat of a coup. Acting swiftly, Mikeli strikes at the powerful family behind the attack: the Verrakaien, magelords steeped in death and evil. Mikeli's survival—and that of Tsaia—depend on the only Verrakai whose magery is not tainted with innocent blood. Two kings stand at a pivotal point in the history of their worlds. For dark forces are gathering against them, knit in a secret conspiracy more sinister and far more ancient than they can imagine.
Amazon:
http://www.amazon.com/Oath-Fealty-Legend-Paksenarrion-Elizabeth-ebook/dp/B0030DHPAC
B&N:
http://www.barnesandnoble.com/w/oath-of-fealty-elizabeth-moon/1100294071