This week's Friday Finds offers up something for just about everyone. Don't forget to leave a review on Amazon or B&N if you enjoyed one of these books. Authors are people too, and love responses from readers like you!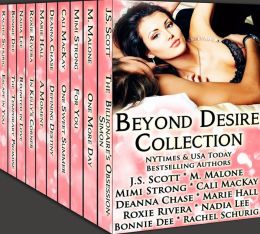 Beyond Desire Boxed Set
Genre: Boxed Set
**Limited Edition, Limited Time 99 cents SALE from NYT & USA Today Bestselling authors!**
 Get this set now before it's gone! Retail for this collection is over $25.00!


THE BILLIONAIRE'S OBSESSION ~ SIMON by J. S. Scott


Reclusive billionaire Simon Hudson would rather be behind a computer creating computer games ...until he meets Kara Foster. But when she ends up in a situation that could very well be her destruction, Simon steps up to help her, not realizing that in saving Kara, he might very well be salvaging his own soul.

ONE MORE DAY by M. Malone


When Ridley Wells finds herself on the wrong side of a mafia don, she runs to the only person she trusts. But her twin sister is out of town and she has no where to go. So when resident bad boy Jackson Alexander mistakes her for her sister, she does something she knows she shouldn't. She lies.




FOR YOU by Mimi Strong


Aubrey's fled her shabby past for a reason, and won't let anyone close enough to discover her secrets. Sawyer talks his way into one date, and then another. Aubrey finds herself smiling, and falling in love. But when the truth comes out about Aubrey's past, will Sawyer stand by her side?




ONE SWEET SUMMER by Cali MacKay


Riley never got over her first love, Thorsen, so when he shows up at the quirky inn she manages 12 years later, she falls for him all over again. She soon finds out the inn is being sold to Holt Enterprises, who'll strip it of everything that makes it unique. When faced with the real reason Thorsen's returned and his unbearable betrayal, will she be able to save the inn and her chance at true love?




DEFINING DESTINY by Deanna Chase

Singer-songwriter Lucy Moore has already met her soul mate. But when he betrays her she returns home with some decisions to make. After a horrific accident, Seth Keenan's own destiny is shattered. Now he's abandoned his career in favor of his tattoo gun and has vowed to never to get close to anyone again...until he meets Lucy.
A MOMENT by Marie Hall


Lili would much rather be doing homework on Valentine's then hanging out in a Burlesque bar, until she meets the brooding Ryan. What she doesn't know is that Ryan has decided tonight he'll end it all, but fate has other plans for him. Lili is determined to save not only his body, but his soul too.


IN KELLY'S CORNER by Roxie Rivera


Former Marine Kelly Connolly will do anything to keep Bee Langston safe, but winning the underground cage fighting tournament to save his family's legacy comes at a high price--one that might just cost his sweet Bee her life.




REUNITED IN LOVE by Nadia Lee


Billionaire Ethan Lloyd gets the second chance he wants when he runs into Kerri Wilson. She's the only woman who ever touched him, but she vanished after their one night of passion. He offers her a job and a home, but with her past catching up to her, Kerri may have to bolt again--


THE TEMPORARY PROMISE by Bonnie Dee


Struggling actress Tara has grown used to the idea that her career might not progress beyond an occasional commercial--until her best friend's brother, Luis encourages her to make a big move. Soon Tara is taking more than career risks as she plunges headlong into a steamy relationship with the guy she crushed on as a teenager.




ESCAPE IN YOU by Rachel Schurig


Jet Taylor is the quintessential bad boy. The type of guy most girls do their best to avoid. But Zoe Janes is no saint herself and the more time they spend together, the harder it is for Zoe to stick to her "fun only" mantra.
AMAZON:
http://www.amazon.com/Beyond-Desire-Collection-Limited-Billionaire-ebook/dp/B00J0CHUGQ
BARNES & NOBLE:
http://www.barnesandnoble.com/w/beyond-desire-collection-js-scott/1119423630
Out on a Limb
By Carolyn Jourdan
Genre: Mystery
Only .99¢ (Sale ends 5/11/14)
Phoebe McFarland has just moved back to her hometown of White Oak, Tennessee, a sleepy rural community nestled in the mist-shrouded ridges and isolated hollows of the Smoky Mountains. 

Now she spends her days working as a rural home health care nurse, making calls on a quirky roster of housebound characters she's determined to take care of whether they cooperate or not. 

She applies this same optimism to her love life, despite the fact that she's been dating for 38 years without locating any husband material. When she runs into her childhood sweetheart, Henry Matthews, a wildlife ranger for the Great Smoky Mountains National Park, it looks like she might've found her man.


But Phoebe and Henry's chance for romance has to be put on hold while they undertake a desperate search for a young woman who mysteriously vanished from the park during a gathering of world famous biologists and botanists, including a charismatic Frog Whisperer.
AMAZON:
http://www.amazon.com/Out-Limb-Mountain-Mystery-Phoebe-ebook/dp/B00B9FKLS6
Visit the author's website at:
http://www.carolynjourdan.com/
Bared
By Stacey Kennedy
Genre: Erotic Romance
Only .99¢ (sale ends 5/17/14)
In a novel that's perfect for fans of Fifty Shades of Grey, Stacey Kennedy returns to Club Sin with another wicked and wild tale of submission, seduction, and love.
 
At Las Vegas's exclusive Club Sin, Aidan Knight is the Master, unleashing the erotic yearnings of his submissive lovers. But his dominant façade conceals a devastating loss—something he instantly recognizes in his personally trained submissive Cora Adams.
Sworn to unearth her secrets, Aidan uses his seductive skills to ignite her wildest desires until Cora yields to the pleasure she can find only with him.


Cora came to the BDSM club to act out her sub-and-dom fantasies without ever revealing the heartbreak that haunts her. But Aidan's masterful touch is bringing her closer to the edge . . . and deeper into a world of control and surrender. He refuses to allow her to submit to any other man—nor does she want to. It's a dangerous game they're playing. For as they give in to passion, they must lay bare their souls for a love that could heal—and free—them both.

Bared is an erotic romance intended for mature audiences.
AMAZON:
http://www.amazon.com/Bared-Club-Sin-Stacey-Kennedy-ebook/dp/B00EMXC022
B&N:
http://www.barnesandnoble.com/w/bared-stacey-kennedy/1116525826
Visit the author's website at:
http://www.staceykennedy.com