I hope you'll enjoy some of the swoon worthy heroes I've collected for you this week. ;)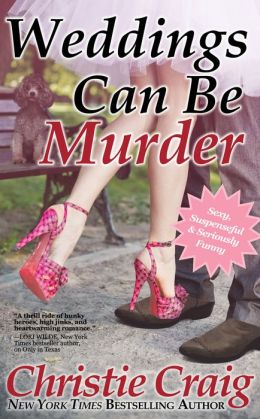 Weddings Can Be Murder
By Christie Craig
Genre: Contemporary romance | cozy mystery
FREE

(for a limited time only)
Till Deaths Do You Part . . .
Katie Ray was about to marry a man she didn't love—and who didn't love her. Even losing her $8,000 engagement ring wasn't enough of a sign to call things off. What did it take? Being locked in the closet with a sexy PI, and being witness to murder.
. . . Or They Bring You Together
Carl Hades hardly wanted to be shackled with another man's soon-to-be-wife, especially when the gorgeous redhead stirred emotions he'd avoided for years. He'd been hired by an elite Houston wedding planner to investigate some missing brides. When those brides turned up dead, Carl saw where the whole situation was headed: just like Katie's wedding ring and her ceremony, right down the toilet. Because, while Katie was suddenly and delightfully available, he had a feeling she was next in line to die. And before he could ask her to say "I do," he had to know who would say "I did it."
Available at:
Amazon:
http://www.amazon.com/Weddings-Can-Murder-Christie-Craig-ebook/dp/B005GXNRPQ
B&N:
http://www.barnesandnoble.com/w/weddings-can-be-murder-christie-craig/1102297085
iTunes:
https://itunes.apple.com/us/book/weddings-can-be-murder/id590268219?mt=11
Smashwords:
https://www.smashwords.com/books/view/87008
Blood Blade Sisters Series
By Michelle McLean
Genre: Historical Romance | Western | Boxed set
.99¢ (until 5/26/14)
The Wild West just got a little wilder...
In a time when justice is hard to come by, three unconventional sisters become one notorious bandit - The Blood Blade - robbing from the corrupt lawmen to give back to the innocent.
A Bandit's Stolen Heart
- Under the persona of the bandit, Blood Blade, Cilla Richardson robs from the corrupt and gives to the poor. But an accidental kidnapping leaves her with a very handsome captive named Leo Forrester... and an idea to save her town.
A Bandit's Broken Heart
- Determined to make a fresh start with her daughter, widow Brynne Richardson gives up her bandit activities and leaves California for Boston. Working for a handsome doctor fulfills her need to be useful and independent, but he creates another yearning she can't deny. But will he understand when she has to resurrect the Blood Blade?
A Bandit's Betrayed Heart
- Lucy Richardson's bandit sisters may have taught her to sling a gun and pick a stubborn lock, but nothing prepared her for the agony of her first heartbreak. Her sisters taught her to fight like hell for what she wants... and she wants Finn.
Amazon:
http://www.amazon.com/Blood-Sisters-Series-Entangled-Scandalous-ebook/dp/B00JTIOY24
B&N:
http://www.barnesandnoble.com/w/blood-blade-sisters-series-michelle-mclean/1119276224
Gladiator Heart
By Alyssa Morgan
Genre: Historical Romance | Roman Empire
.99¢ (sale ends 5/31/14)
When Lady Valeria Augusta Marianus is captured by the savage Pict army, she is fearful of her treatment by their renowned and fearless commander. His enemy is the Roman Empire and she is the Cesar's niece, but Tristan Caileanach is nothing like the wild beast she imagined. Instead his ruggedly handsome face and toned body makes her long to be held in his powerful arms. And her traitorous body can only resist the heat of this fierce warrior's touch for so long…
One night in Tristan's bed is all it takes for Valeria to give him her innocence and her heart. Yet she knows they have no future together – not when his hatred for all things Roman runs so deep. But when the Roman army descends on the camp and Tristan is enslaved and forced to be a Gladiator, facing death every day, suddenly their roles are reversed.
Now all Valeria wants is to give him back his freedom, but Tristan's only chance is to win it in the arena…
Amazon:
http://www.amazon.com/Gladiator-Heart-Alyssa-Morgan-ebook/dp/B00EAPX6GG
B&N:
http://www.barnesandnoble.com/w/gladiator-heart-alyssa-morgan/1116295946