My friend Gemma Halliday just had a new book released in her High Heels Mysteries series!
Homicide In High Heels!
Maddie is up to her old tricks. Read on for more...
High Heels Mysteries book #9
It's springtime in California! The flowers are in bloom, the fashion week runways are fierce, and fans of America's favorite pastime are filling the baseball stadiums to root for their favorite team. But when the girlfriend of the L.A. Stars rookie MVP winds up dead at a chic Beverly Hills salon, it's suddenly up to fashion designer Maddie Springer to track down the "Tanning Salon Killer." Armed with the help of her wacky cast of friends and family, Maddie finds herself with a list of suspects that includes the cast of the reality TV show
Baseball Wives
, a desperate blackmail victim, and an entire baseball team! If Maddie can brave the hot dogs and cat fights, she just might be able to catch a killer...before he strikes again!
Gemma Halliday Website
Buy
Homicide In High Heels
paperback:
http://www.amazon.com/Homicide-High-Heels-Mysteries/dp/1499321147
Buy the ebook for Kindle:
http://www.amazon.com/Homicide-High-Heels-Mysteries-book-ebook/dp/B00K4FJRQ4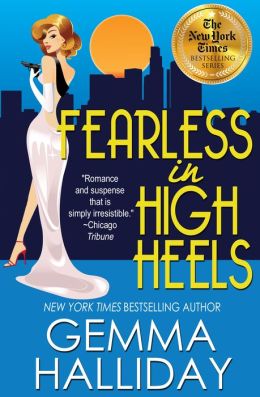 Grab Fearless In High Heels now for only .99¢
(sales ends May 11, 2014)
Morning sickness sucks. Which is why fashion designer turned amateur sleuth Maddie Springer has spent the last six weeks being a couch potato and Moonlight vampire movie devotee. But when Maddie's best friends finally convince her to venture out, Maddie stumbles on a dead body of a girl who has been bitten on the neck, and life suddenly imitates art in the most deadliest of ways. Now Maddie is smack in the middle of a murder investigation involving a deadly dance club and a coven of Hollywood "vampires". Not to mention navigating the world of baby showers, diaper genies and Lamaze classes with her LAPD Homicide detective husband who would rather his pregnant wife not continue popping up in his murder investigation. Between the hormones, the homicides, and a flurry of fangs, Maddie and her gang work to track down the deadly truth... before the killer bites again!
AMAZON:
http://www.amazon.com/Fearless-High-Heels-Mysteries-ebook/dp/B006Q5W3I0
B&N:
http://www.barnesandnoble.com/w/fearless-in-high-heels-gemma-halliday/1107586761
SMASHWORDS:
https://www.smashwords.com/books/view/118279