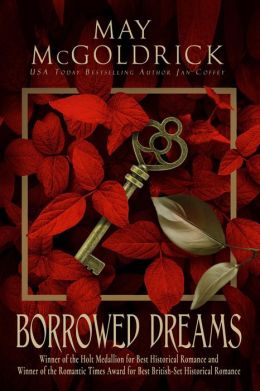 Borrowed Dreams


By May McGoldrick
Genre: Historical Romance
.99¢ For a limited time only!
THE PROPOSAL
Driven to undo the evil wrought by her dead husband, Millicent Wentworth must find a way to save her estate and free the innocent people he enslaves. Her only hope is a marriage—in name only—to the notorious widower the Earl of Aytoun.
THE GROOM
Devastated by the tragic accident that killed his wife and left him gravely wounded, Lyon Pennington, fourth Earl of Aytoun, is tormented by the accusations that blame him for the catastrophe. Filled with despair, he lets his mother lure him into a marriage of convenience—for the sake of a good-hearted woman on the verge of financial ruin.
THE DESIRE
Under Millicent's gentle gaze, Lyon begins to regain his strength and his wounded heart begins to heal. And soon Millicent discovers that beneath his unruly beard and grim demeanor, Lyon just may be the most handsome—and caring—man she's ever encountered. For the first time in her life, she realizes that she is alive—alive with a smoldering desire for the one man she'll love forever…
Winner of Holt Medallion for Best Historical Romance
Winner of Romantic Times Award for Best British-Set Historical Romance
Amazon:
http://www.amazon.com/Borrowed-Dreams-Scottish-Dream-Trilogy-ebook/dp/B001L5SO0G
B&N:
http://www.barnesandnoble.com/w/borrowed-dreams-may-mcgoldrick/1101222092
Smashwords:
https://www.smashwords.com/books/view/58015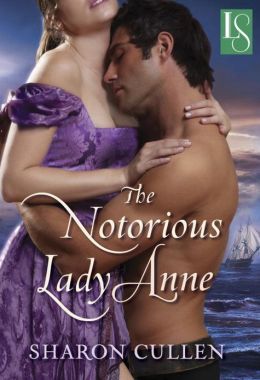 The Notorious Lady Anne
By Sharon Cullen
Genre: Historical Romance
.99¢ For a limited time only!
Nicholas Addison, celebrated captain of the Blackwell Shipping Fleet, has agreed to take Mrs. Emmaline Sutherland aboard the Pride and ferry the raven-haired beauty across the Atlantic on what he imagines will be a routine trip. But when the ship is attacked by pirates, the seemingly innocent passenger is revealed to be none other than the infamous marauder Lady Anne, whose name strikes fear in the hearts of sailors everywhere—and whose seductive wiles commandeers Nicholas's affections.

Lady Anne, a legend of the high seas, has spent the last eleven years plotting revenge against her father, the owner of Blackwell Shipping. She's targeted the Pride in hopes of plundering its captain's company secrets. But beneath her fierce courage and bitter determination, Anne has the delicate heart of a woman—a heart that cannot help falling for Nicholas. Now Anne must make a difficult choice: bring down Blackwell or surrender to love.
Amazon:
http://www.amazon.com/The-Notorious-Lady-Anne-Historical-ebook/dp/B00957T6IQ
B&N:
http://www.barnesandnoble.com/w/the-notorious-lady-anne-sharon-cullen/1112483048