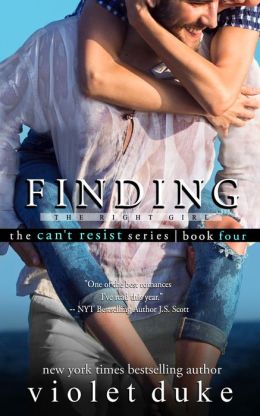 Finding The Right Girl
by Violet Duke
* * * ON SALE for 99 CENTS for a limited time only! * * *
Special Edition for Charity Cover: Fifty percent (50%) of all royalties from the ebooks and paperbacks sold bearing this special edition silver seal cover will go to the St. Jude Children's Research Hospital and--in honor of the characters in the Nice Girl/Nice Guy books--the Huntington's Disease Society of America.
From the New York Times & USA Today bestselling author who brought you the Nice Girl to Love trilogy, comes A Nice GUY to Love spin-off...
Brian Sullivan has been in love twice in his lifetime. He lost his first love to early-onset Huntington's, and he lost the other more recently…to his brother. And somehow, his heart has managed to heal itself after both. Amazingly, without therapy. That doesn't mean Brian hasn't gotten more wary along the way, however. In fact, he's been thinking lately that maybe his brother's now retired nothing-but-flings rule isn't such a bad idea. Unfortunately, being the nice guy poster boy and all, he isn't exactly versed in the fine art of flings. So he looks to the outrageously 'unique,' provokingly button-pushing Tessa Daniels for a crash course.
There's absolutely no way he's falling in love with this one...right?
Tessa has no idea what she was thinking telling Brian that she was some sort of fling expert. She's never been flung before and she sure as heck doesn't know where or how to begin flinging a guy like Brian. It was a temporary lapse in sanity, really—no doubt because of the can't-help-but-fall-for-him brain fuzz that hits her whenever he's around. Not only does the man have her being more herself than she's ever been in her life, but he's the only person she knows who seems to have as many demons and skeletons in the closet as she does. What's more, he's got her thinking of the one thing she stopped letting herself even hope for years ago.
A happily ever after.
Note: This is a spin-off of the Nice Girl trilogy (Resisting, Falling, and Choosing), however, it is a separate standalone (no cliffhanger).
.99¢ special edition priced limited time offer
Amazon:
http://www.amazon.com/Finding-Right-Girl-spin-off-ebook/dp/B00GCPQ6GE/
Barnes & Noble:
http://www.barnesandnoble.com/w/finding-the-right-girl-violet-duke/1117299652?ean=2940148854135
iTunes:
https://itunes.apple.com/us/book/finding-the-right-girl/id710844273?mt=11
Kobo:
http://store.kobobooks.com/en-US/ebook/finding-the-right-girl-a-nice-guy-to-love-spin-off