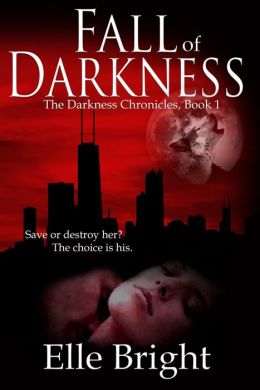 Fall of Darkness
by Elle Bright
Genre: Paranormal Romance | Novel
Only .99¢ until January 21, 2014, grab your copy today!
Fall of Darkness (The Darkness Chronicles, Book 1)
One woman, the fate of the world in her unknowing hands. One man, sworn to destroy her. A love so strong it defies nature. In a world of obsession, deception & betrayal, the line between good and evil fades, but one truth remains absolute. Darkness must fall.
For centuries, werewolf, Dominic Ridolfi, has battled the demons of the night, upholding the sacred pact to protect man from vampires. Yet when sent to destroy the long-lost Cacciatori heiress, a vampire prophesied to free her kind from the curse of darkness, he finds himself reluctant to complete his task. The innocent beauty awakens his humanity and Dominic finds himself not in the role of assassin, but savior.
Swept away in a whirlwind romance, Kate loses herself in Dominic's mysterious world of opulence and seduction. But Dominic has a secret. He knows the truth about Kate's past, and her future, truths with the power to destroy them both. Only in her dreams does Kate sense the growing darkness within. Dominic saved her once, but can she save herself from the darkness within?
Grab your copy before the sale ends! Only .99¢ until January 21, 2014.
Amazon:
http://www.amazon.com/Fall-Darkness-The-Chronicles-ebook/dp/B00DSGY8B0
B&N:
http://www.barnesandnoble.com/w/fall-of-darkness-elle-bright/1116074184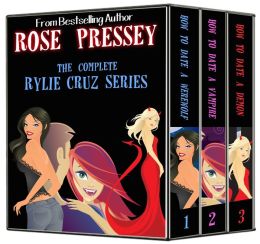 Complete Riley Cruz Series
By Rose Pressey
Genre: Paranormal Romance | Boxed Set
Only .99 cents until Saturday, 1/11/14, so grab it today!
How to Date a Werewolf
Romance can be a hairy business--especially when you're a werewolf.
As the owner of Get a Mate Dating Service, Rylie is more than happy to step in and lend a hand to lonely lycanthropic hearts all over town. No matter how hopeless Rylie might be in finding her own soul mate, she has a knack for helping others find theirs. Convinced that she is stuck with a family curse, Rylie is positive she will never find her true love. But when drool-worthy Jack Chandler shows up at her door, Rylie wonders if maybe the curse is finally broken.
But Rylie's life is about to become complicated courtesy of the after-dark crowd. When she begins receiving strange notes and harassment from a jilted client, events careen out of control. Jack knows she's more hassle than he can handle. What he doesn't know is whether she's seriously in trouble . . . or simply delusional.
How to Date a Vampire
Dating a vampire doesn't have to suck.
Rylie Cruz is the owner of Get a Mate dating service. Her specialty is matching up paranormal folks. Thinking that a curse placed on her is finally broken, Rylie hopes that her love life is headed in the right direction.
Not so fast.
Rylie has finally convinced her hunky psychiatrist boyfriend, Jack Chandler, that
she isn't crazy and is actually a werewolf. But after a little scuffle with temperamental vampires, Rylie must now convince Jack that he may be a part of the paranormal club.
How to Date a Demon
A Match Made in Hell
Rylie Cruz loves playing matchmaker. She even does it full-time at her matchmaking service, Get a Mate. Since she's a werewolf, she feels that gives her expertise when dealing with the paranormal crowd.
When Rylie's best friend, Jennifer Matthews, asks her to set her up on a date, Rylie is hesitant. Jennifer hasn't had luck in the dating department lately.
But when a good-lucking man shows up looking for a date, Rylie thinks Jennifer might be his perfect match. The date turns to hell though when Jennifer displays outrageous mood swings and a new shocking fashion sense.
When Jennifer disappears, Rylie fears the worst. Things get even stranger when a mysterious demon hunter shows up looking for Jennifer. He claims he wants to help Rylie find her friend. Rylie's boyfriend, Jack Chandler, is trying to save Rylie from the demon hunter, but she isn't sure she needs to be saved.
Rylie has to find her friend before it's too late and Jennifer's swooped off for a staycation in forever damnation.
Only .99 cents until Saturday, 1/11/14, so grab your copy today!
Amazon:
http://www.amazon.com/Complete-Rylie-Cruz-Series-Pressey-ebook/dp/B00FK1WM78
B&N:
http://www.barnesandnoble.com/w/complete-rylie-cruz-series-rose-pressey/1117036036