Today's Friday Finds is all about the werewolves. I enjoy shifter romances, but for me, paws down, it's gotta be the wolfies. I've probably read over 500 werewolf romances in the last 15 years. I know I'm not alone in my love of big muscled guys who get a little hairy on a full moon, or shift into a wolf form anytime they please. The whole mythos of having that one perfect mate, bonding forever with your true love—come on ya'll, admit it—that's what HEA is made of—true kismet, enduring love, and sizzling passion!
If you're like me and cannot resist a good wolfies romance, then try out these cool ebooks. Who knows, you may find a new-to-me author and some hairy heroes you can't resist!
The Cain Chronicles:
Episodes 1–4
By S.M. Reine
Genre: Paranormal Romance/Werewolves/Boxed Set
Only
.99¢
for a limited time!
Rylie Gresham has enjoyed two peaceful years as Alpha of the last werewolf pack in existence. But she's feeling kind of confused. Her boyfriend, Seth, has been away at college, and her feelings for his brother, Abel, have been growing as they run the pack together.
Everything gets a lot more complicated when someone sends her a silver bullet and a threatening message. It throws her into a deadly battle with enemies old and new, which is only slightly less perilous than the battle inside her heart. Sooner or later, she's going to have to choose: will she marry Seth, or follow her feelings for Abel?
This is a collection of the first four episodes of The Cain Chronicles, a serialized novel. It amounts to approximately 65,000 words. If you've read episodes 1-4 before, there's nothing new here. If you're just joining the story—enjoy! :)
NEW MOON SUMMER
Rylie is Alpha: the leader of the werewolves. They're an endangered species living in a sanctuary, and she's guarded them for two peaceful years. The peace is shattered when somebody sends Rylie a threatening silver bullet. A new member of the pack goes missing. And to make things worse, her inner wolf is strangely attracted to her boyfriend's brother, leaving her torn between the love of two men--one of them a werewolf, and the other a former hunter.

BLOOD MOON HARVEST
Rylie's home has been turned into a battle zone by attacking hunters--and by her conflicted heart. Her wolf and human sides are in love with different men, and neither Seth nor Abel will give Rylie up without a fight. To save her pack, Rylie will have to find out who Cain is. To save herself, she'll have to choose between the man she wants and the man she needs.
MOON OF THE TERRIBLE
Abel is struggling to find his footing at the werewolf sanctuary when he receives terrible news: the girl he loves and his brother have vanished. Seth calls to claim that they're eloping, but Abel knows it's a lie. There's no way that Rylie would get married without telling him. Not when the memory of her scorching kiss is still burning on his lips. Certain that something is wrong, Abel drops everything to rescue Rylie and Seth--and stake his claim over his mate.
RED ROSE MOON
Rylie Gresham, Alpha of the endangered werewolf species, is pregnant. The fact that she's only eighteen and maybe a tiny bit in love with her boyfriend's brother isn't even the worst part: the baby is going to be a werewolf, too. Certain that Seth is the father, she finally agrees to marry him, even if her heart is still filled with doubt.
Abel is being held captive by Cain when he hears about Rylie's condition--and the shocking circumstances surrounding the conception. Rylie and Abel have been mating on the full moons, so there's a chance that he's the father, and she has no clue. Now Abel has to escape Cain and crash the wedding before his mate marries his brother.
A zombie mother-in-law, back-stabbing hunters, and wicked morning sickness mean that they're all in for one heck of a party.
Check out S.M. Reine's free ebooks on her website:
http://authorsmreine.com/free-ebooks/
Amazon:
http://www.amazon.com/The-Cain-Chronicles-Episodes-1-4-ebook/dp/B00B0645XG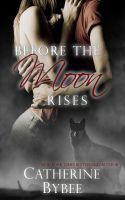 Before The Moon Rises (The Ritter Werewolves Series)
Catherine Bybee
Genre: Paranormal Romance/Werewolf
Only .99¢ for a limited time!
After a twelve-hour shift in a busy emergency room, Janet O'Brien is beat. Her last patient arrives unconscious and naked. She's lead to believe he's a psyche patient off his meds. However, once he awakens, Janet is charmed by his million-dollar smile and agrees to give him a ride home.
Werewolf, Max Ritter notices the sassy nurse when he wakes after a night under the full moon. Unfortunately, his archrival is drawn to Janet as well. In order to keep her out of harm's way, he opts to keep her close. When the chemistry between them sparks, Max discovers a completely new reason to keep Janet safe.
Amazon:
http://www.amazon.com/Before-Rises-Ritter-Werewolves-ebook/dp/B007NUVFN6
B&N:
http://www.barnesandnoble.com/w/before-the-moon-rises-catherine-bybee/1020986499
Smashwords:
https://www.smashwords.com/books/view/144181
Charming The Alpha (The Crane Curse Series)
Liliana Rhodes
Genre: Paranormal Romance/Werewolf
FREE!
Hannah Crane just graduated college, lives at home with her mom, and has no idea what to do with her life. One night while visiting her grandmother, she's startled by a wolf and everything changes.
In the forest investigating a recent rash of murders and missing shifters, werewolf Alpha Caleb Overstreet doesn't expect to run into a human, let alone a witch. Especially not one whose scent tells him she is his other half...or is she?
As the secrets of her ancestry are revealed, Caleb and Hannah are unable to stay away from each other and Hannah finds herself in danger. A rival pack believes her to be at the center of a curse that would enable them to control other shifters. But is Hannah the wolf charmer they believe her to be? Or is she really Caleb's fated mate?
Amazon:
http://www.amazon.com/dp/B00FL3VPD2
B&N:
http://www.barnesandnoble.com/w/charming-the-alpha-liliana-rhodes/1117032572
iBooks:
https://itunes.apple.com/us/book/charming-the-alpha/id719983639?ls=1