The Best Gift
By Wendy Markham
Genre: Contemporary/Time Travel Romance | .99¢ (through December 1, 2013)
Note: This book is a sequel to the Christmas Time Travel romance If Only in My Dreams (2006) by Wendy Markham.
When Clara wakes up on Christmas morning next to her husband Drew, she's filled with joy because she has the perfect present: she's seven weeks pregnant with their first child.
But no sooner does Clara tell Drew the news than an earthquake strikes in nearby San Francisco. The next thing Clara knows she's waking up in bed-alone-and discovers she's three years in the future. Where is her husband and what has happened to the child she was expecting? Clara is no stranger to unusual occurrences, but the last thing on her Christmas list was to time travel...again.
Amazon:
http://www.amazon.com/The-Best-Gift-Wendy-Markham-ebook/dp/B005V554ZU
Beautiful Illusions
By Annie Jocoby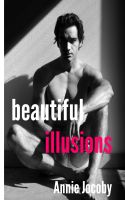 Genre: Contemporary Erotic Romance | FREE (through December 2013)
Jaded Iris Snowe's humdrum life becomes a fairy tale with the addition of the absurdly rich, ungodly sexy Ryan Gallagher. But he's hiding deadly secrets that could turn happily-ever-after into a nightmare...
Attorney Iris Snowe drinks too much, eats too much, and spends too much. Her sex life has been as spectacularly unsuccessful as her law practice, so she spends her evenings in her tiny apartment watching bad TV, talking to her cat, and rescuing pit bulls. And her name might be Iris, but it should be Jade. As in jaded, which is how she feels about romance and men in general.

So, when a gorgeous and sexy stranger appears in her law office on Monday morning, after a one-night stand the previous Saturday, she doesn't think that he is coming to see her because he is interested. She just figures that she left something behind in the room and he is enough of a gentleman to deliver it to her.

How wrong she is.

As it turns out, Ryan Gallagher not only looks like a Ralph Lauren model come to life, but is also fabulously wealthy, as he is the son of a prominent billionaire.

In other words, light years out of Iris' league. And completely into her, in more ways than one.

And so begins the erotic Cinderella romance of her life, with a man who truly loves her. And oh, if it could just be that simple. But, of course, it's not -the fairy tale is fractured, as it is marred by obsession, jealousy, and dark secrets that Ryan has desperately sought to conceal and repress. It turns out that, behind those magnificent green eyes, lies the memories of a past that nobody should ever have to experience. Nobody.

But when his past becomes his present, his secrets come to light.

And one of those secrets just might be deadly...
This full length novel is
FREE
(through December).
Get your copy today at:
Amazon:
http://www.amazon.com/Beautiful-Illusions-Contemporary-Romance-ebook/dp/B00DKGZT7A
Barnes & Noble:
http://www.barnesandnoble.com/w/beautiful-illusions-annie-jocoby/1117051779?ean=2940045302630
Smashwords:
https://www.smashwords.com/books/view/360285