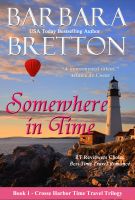 Somewhere in Time
By Barbara Bretton
Genre: Paranormal Romance
FREE

( for a limited time!)
The CROSSE HARBOR TIME TRAVEL TRILOGY

Book 1 - SOMEWHERE IN TIME
Book 2 - TOMORROW & ALWAYS
Book 3 - DESTINY'S CHILD

Reviewers Choice Award - Best Historical Time Travel
--Romantic Times

Historian Emilie Crosse dreamed of a love that would last forever
Who knew she'd have to sail across two centuries to find it?

When her ex-husband Zane Grey Rutledge showed up at her door with a Revolutionary War uniform that was part of his grandmother's estate, neither one suspected that their lives were about to change in ways they couldn't possibly imagine.

Swept back in time to 1776 where a nation is struggling to be born, Emilie finds herself torn between two men: Zane, her ex who still holds the key to her heart, and Andrew McVie, the Patriot hero of her long-ago dreams . . . .
AMAZON:
http://www.amazon.com/Somewhere-Crosse-Harbor-Travel-Trilogy-ebook/dp/B008ELA6VK
Smashwords:
https://www.smashwords.com/books/view/238286